Textmetrics for Microsoft Outlook
Textmetrics is the content creation platform that enables you to create content that actually matches your target audience. Powered by machine learning and artificial intelligence, Textmetrics will assist you with real-time suggestions to write high quality content for your audience. With Textmetrics your content will rank better in search engines and will have better conversion rates.
With our add-in for Microsoft Outlook, you can directly work with the content optimization suggestions in Outlook. Making sure that the emails your are sending are on the right reading level (B1), tone of voice, etc.
This add-in works in Outlook 2016 for Mac, Outlook 2013+ for Windows and Webversion of Outlook.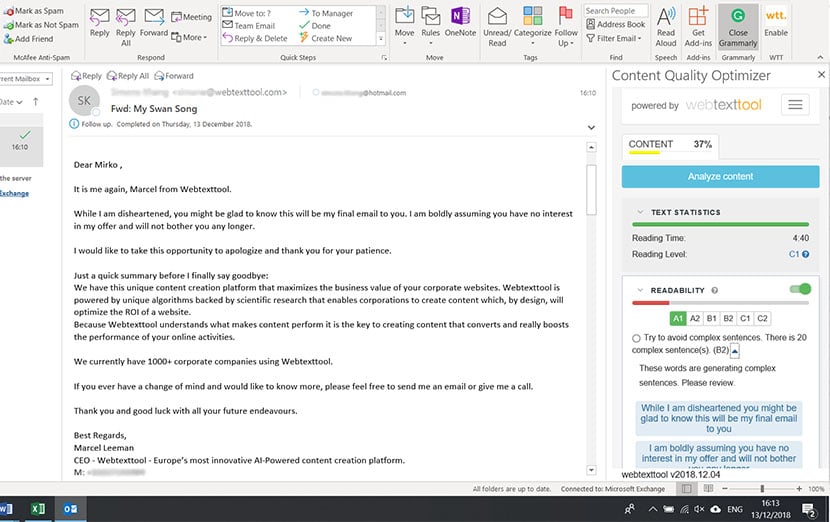 MAKE CONTENT QUALITY A PRIORITY
Give your visitors a great reading experience and improve on-page time by ensuring that your content is accessible and easy to read for your intended target audience. Run our automatic checks for word difficulty, jargon and gender inclination.
Installation & Usage
To install Textmetrics for Outlook, follow these steps:
Open Outlook (This add-in works in Outlook 2016 for Mac, Outlook 2013+ for Windows and Outlook on the Web)
Select 'Add-ins' or 'Store'
Search for 'content quality optimizer' and follow the instructions to install the plugin