Digital communication made easy
Want to nail the right tone of voice every time you write? From emails to internal reports, LinkedIn messages to website articles, our Smart AI Writing Software has got your back! Check and correct your writing to make sure it hits the perfect pitch. Let's get writing.
Gender-inclusive language
Did you know your writing can have a personality? It can be masculine, feminine, or neutral! To make sure everyone feels included, aim for a balanced tone with the words you choose.
Non-discriminatory language
Avoid using words that have age restrictions or are specific to one culture to make sure your writing is inclusive and welcoming to all.
Diversity & inclusion guidelines
Do not forget to include your D&I statement in all your communication.
Software customized for your company
At Textmetrics, we're all about giving you the cream of the crop. That's why we customize our software to your company guidelines, ensuring you get the best possible results.
Your company branding
We've got your back when it comes to keeping your branding on point. Our software spots prohibited terms and suggests specific brand values to make sure all your texts stay on-brand.
Your company tone of voice
Including your company's tone of voice in all written communication ensures consistency and unity.
Write in the correct language level
Long, complicated sentences and difficult words can turn readers off. That's why we suggest writing at a B1 language level to keep it simple and clear for everyone.
Speak to everyone, in all languages
Using old-fashioned or formal words can create a barrier to effective communication and make it difficult for readers to understand. Textmetrics helps you choose the right words and expressions for your audience, while ensuring source credibility, familiarity, and emotional connection.
Write without mistakes
Typos happen, but no worries! Textmetrics has got your back with spellcheck and grammar check to ensure your text is error-free.
Ensure that the perfect candidate is motivated to apply
Our Job Ad Generator provides recruiters like you with the ability to effortlessly generate vacancies that are accurate and error-free from the very first draft.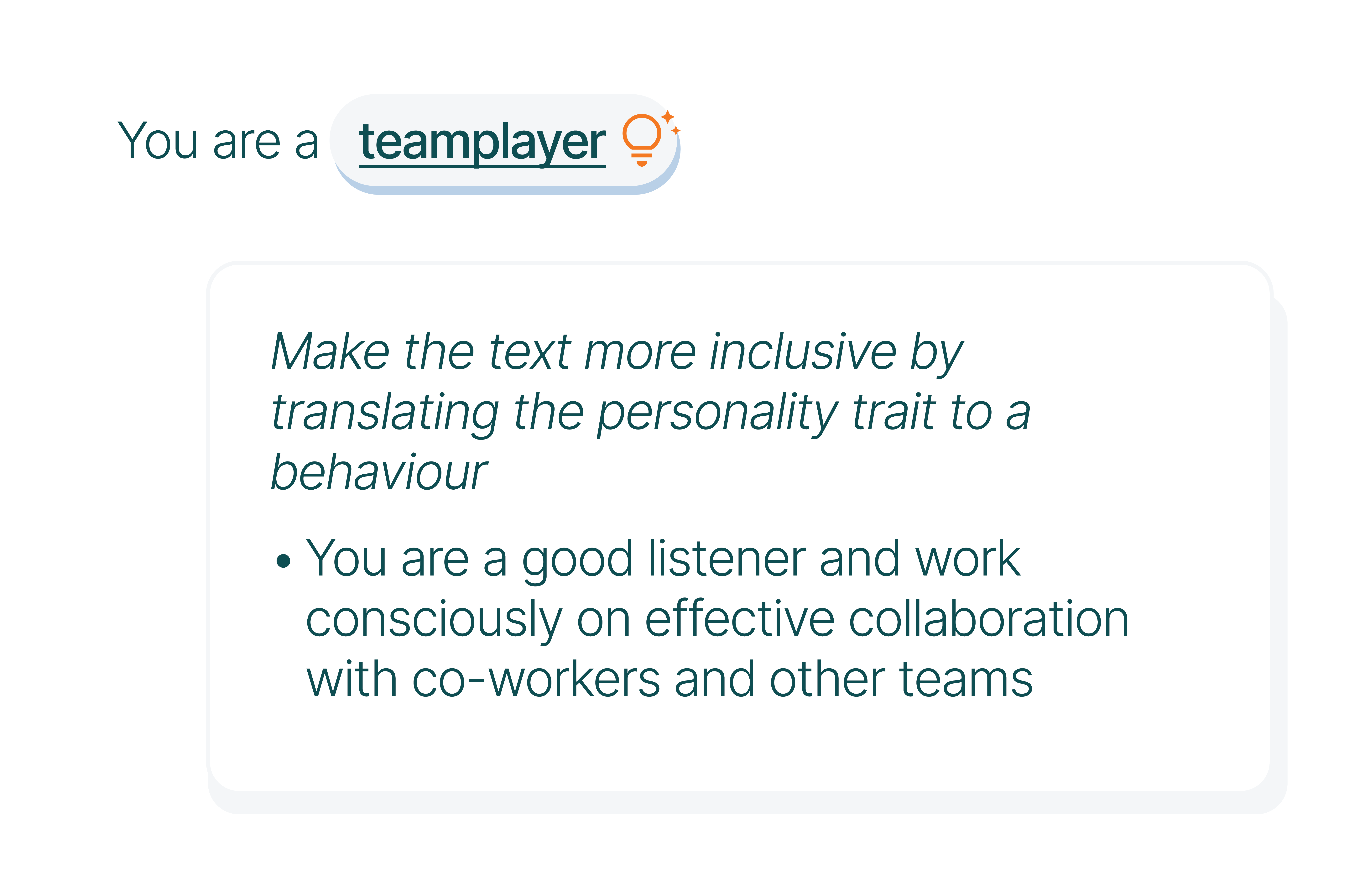 Want to attract a diverse range of candidates? Describe the quality of the candidate you're looking for instead of setting specific requirements.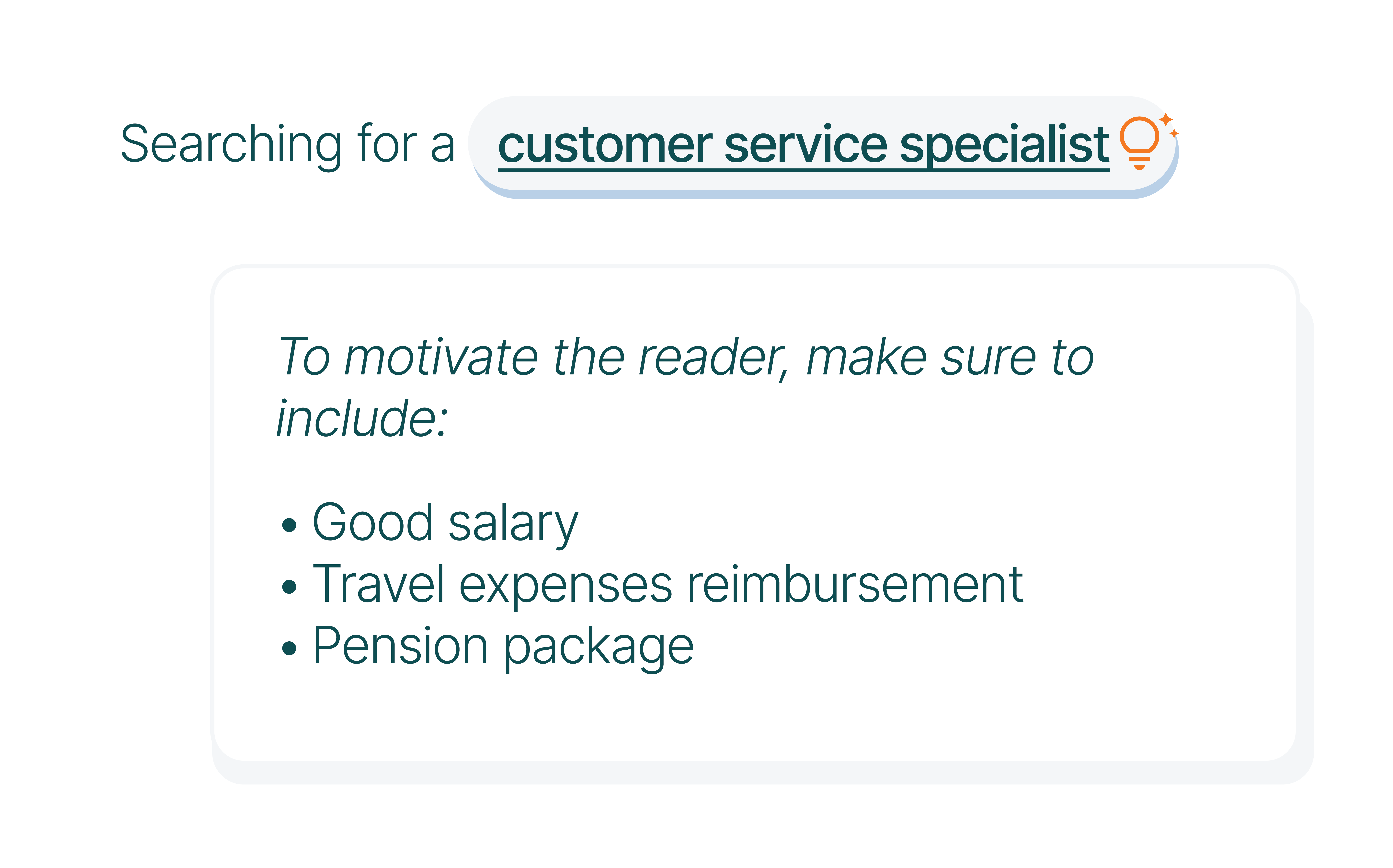 Check out the top 15 motivators for your job function and include them in your text. Get ready to be amazed by the increase in applicants!
Keyword analysis
Analyze the strength of your chosen keyword with our keyword analysis tool and receive suggestions for better online findability.
SEO check
Want to climb to the top of Google's search results? Our SEO check ensures that your keyword is mentioned enough times to improve your ranking. It checks your page's title, description, and headings.
Check the competition
Want to know what your competitors are up to? We check their page title, description, headings, links, and images.
Project Manager
Work together with your team on different projects simultaneously, no matter where you are in the world.
Data insights
Track all pages that you and your team are working on and check average content and SEO scores.
Activity
Check user activity, team activity, and page status with the project manager.
Company Consistency
Our software guarantees consistent high-quality writing, generating, and optimizing for your entire team.
Everywhere you write
Textmetrics partners with various companies, including CRM/ATS/CMS systems, so you can use our software wherever you write. Is yours not on the list or are you using a custom made system? Integrations are always an option.
Translate
All your texts can be translated in the preferred language, before or after making other changes.
Templates
Not sure how to start? Textmetrics created different templates so you can start quickly with writing your masterpiece.
AI Assistant
Make your writing tasks easy by generating and rewriting texts with one click.
Experience how easy digital communication can be.
Request a demonstration of the software and all features here.